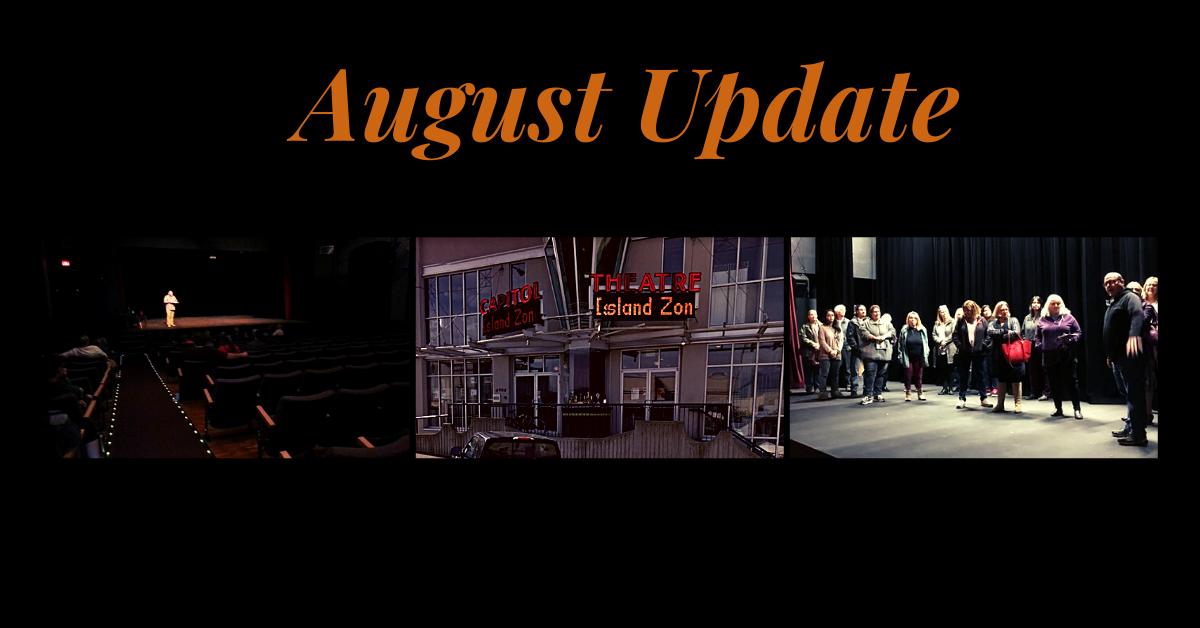 Hello everyone! August is here and we are gearing up for an exciting fall! We have begun working on remounting "The Complete Works of Williams Shakespeare (Abridged)" and the Society is looking for volunteers to join the board, various committees, and upcoming events. Grab your calendars so you can save these dates!
Before we get into all the exciting fall events, we have an update on our CEBA application. For members who couldn't attend the Extraordinary General Meeting back in June, Portal Players applied for a loan through the Canada Emergency Business Account (CEBA). The CEBA program provides interest-free loans of up to $60,000 to small businesses and not-for-profits and a portion of it would've been forgivable. Unfortunately, we were not successful in our application and will need to look at other opportunities for fundraising.
As September quickly approaches, we are looking to fill four seats on the Board. We will be holding a Nominations meeting on August 26, 2021, at the theatre at 7 pm. We are looking for members to fill the roles of Director-at-Large and Treasurer. If you or someone you know is interested, please encourage them to join us at this meeting or they can contact the committee chair at hinatinyis@gmail.com.
The Fundraising Committee has a few events this fall to coordinate and is looking for volunteers. The committee will be meeting on September 9, 2021, at the theatre at 7pm. Portal Players will be participating in a Revival of the Arts event late September or early October, and we are also collaborating with Co-op for the Fuel Good Day in September.
Fuel Good Day is an annual event where Alberni Co-op and the Federated Co-operatives Limited (FCL) donates .10 cents per litre sold at all three Port Alberni locations. The more fuel sold, the more money donated. We are looking for individuals who would be interested in dressing up in costume to help create a presence and draw attention. We are also looking for people to help coordinate all our lovely volunteers!
As for the Revival of the Arts event, we look forward to inviting you back into our theatre. We have not fully formed this event and look forward to working with our volunteers to shape it into an exciting fundraiser that compliments our upcoming season.
A big shout out to the cast and crew of The Complete Works of William Shakespeare (Abridged) for hitting the ground running on their upcoming production. Rehearsals have begun and the cast and crew are eager to share their love of laughter with you all. Opening weekend will be October 8, and we look forward to seeing you all there! Stay safe and we can't wait to see you all again!
One last reminder! Our Annual General Meeting is also next month and we would like to invite you to join us in-person. We will post an official Notice of Meeting with the agenda shortly but please mark your calendars for Thursday, September 23, at 7pm.
hinatinyis
Brittany Coté
President