On this episode of the At The Capitol with Portal Players podcast, we chat with our trio from Little Shop of Horrors. Meet Bronwyn Mairie Nestegaard-Paul, Melissa Lowe and Niklas Burton.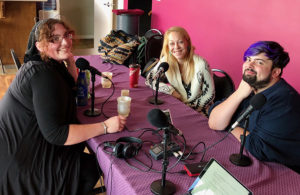 We chat about all things Little Shop and their roles in the show, and then take a dangerous dive into favourite musical theatre titles.
This episode was recorded on Sunday, September 23 before a Little Shop rehearsal, and before Portal Players' Annual General Meeting held on Monday night, September 24.
At the AGM, Melissa Lowe received the highly-coveted and well-regarded Doreen Anderson Volunteer of the Year award, and podcast guest Niklas Burton was elected to the PPDS Board of Directors. Congratulations to you both!
Tune in to the podcast to hear a very entertaining discussion!