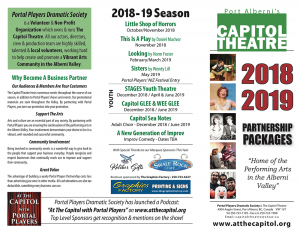 Portal Players Dramatic Society has officially launched its 2018-2019 sponsorship campaign for individuals and businesses.
Being distributed to businesses in the coming week, our Sponsorship Brochure can be downloaded now.
Sponsorship levels start at $129 for our Individual Patron support level, which includes a season ticket ($69 value), a Portal Players membership for the year ($10 value) and a $50 tax receipt.
Business sponsorships start at just $250 and include generous benefits, including promotional mentions and tickets to our shows. Check out the complete list of sponsor benefits in the brochure.
Download our brochure (PDF), and please help to support Portal Players Dramatic Society. Thank you!