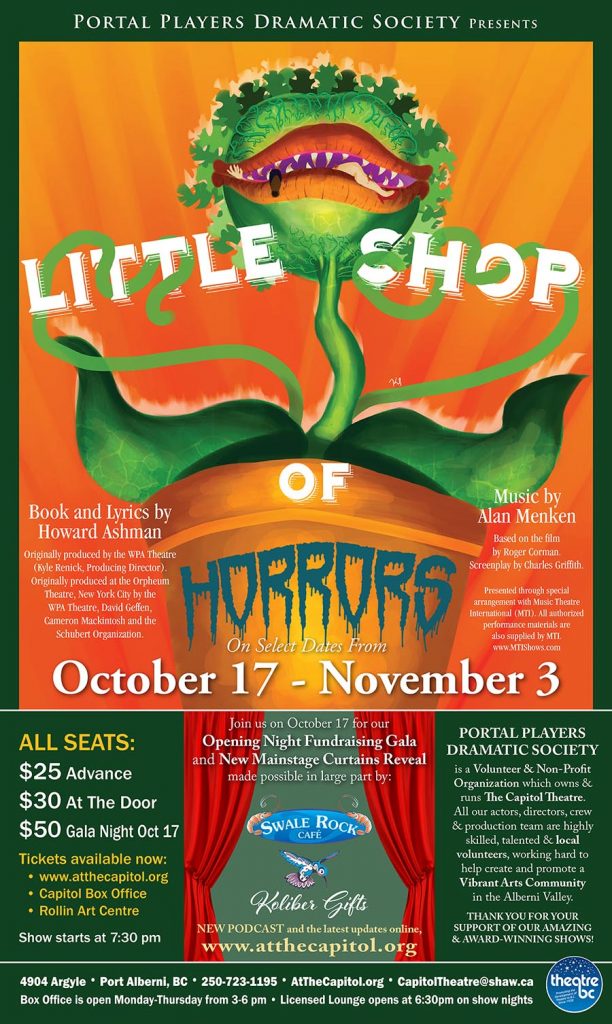 Portal Players Dramatic Society launches its new season of plays on October 17 with an Opening Night Fundraising Gala & Raise The Reds event at The Capitol Theatre.
With thanks to major sponsors Koliber Gifts and Swale Rock Cafe, we will be unveiling our brand new Red Main Stage curtains. Thanks also to funding partners: AV Community Foundation, AV Lions Club, Catalyst Paper, and many individual donors.
Little Shop of Horrors plays on select dates from October 17 (fundraising gala) through to November 3. Tickets are available now for this show; season tickets for the entire series of plays will be available soon.
Ticket purchase links as follows:
Any seats available at the door on show nights are $50 each (Oct 17 only); and $30 each for all other show dates.
Season Tickets are now available which includes Little Shop of Horrors, at a cost of just $69 + fees – a savings of $10 over buying individual advance adult tickets. Other season shows include:
This Is a Play by Daniel MacIvor (November, 2018)
Looking by Norm Foster (February/March, 2019)
Sisters by Wendy Lill (April/May, 2019)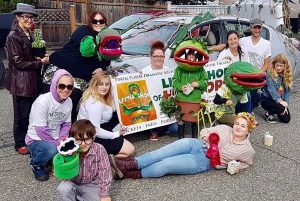 Individuals can also purchase a Membership Patron Sponsorship Package for $129 (only available at our Capitol Theatre Box Office) which includes a season ticket, a membership in Portal Players to support us and receive our updates, and a $50 tax receipt. These and other business sponsorship packages are available by contacting Portal Players as listed below.
It's an exciting season and series of plays, presented by Portal Players Dramatic Society at The Capitol Theatre. For more information call or e-mail the box office, 250-723-1195 and capitoltheatre@shaw.ca