Download Show Here
Portal Players Dramatic Society is back with a new episode of "At The Capitol" featuring special guests Brent Ronning, President; and Elliot Drew, Treasurer; in conversation with host Peter Wienold, coincidentally Vice President of the organization – recorded live in The Capitol Theatre Member's Lounge.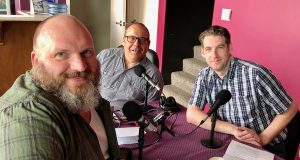 The trio are first excited to announce the plays in Portal Players' upcoming 2018 – 2019 season, and when Season Ticket sales will start. Then they discuss this year's Sponsorship Campaign for individuals and businesses to help support this volunteer-run organization and theatre continue operating and contributing to a vibrant Arts Community in the Alberni Valley.
The season kicks off in October with our production of "Little Shop of Horrors", and a very special Opening Night Fundraising Gala has been planned for October 17th. It will be the first public unveiling of The Capitol Theatre's brand new main stage curtains, as we "Raise The Reds". Fundraising continues to fund the $16,000 project, and after three years of doing just that, Portal Players was able to make in installation happen for the new season. More details will be released soon, as will online ticket sales. Entry is $50 to this special fund raising night, which includes a $25 tax receipt, nibblies and a chance to meet the cast following the show. You can even donate more for an even larger tax receipt!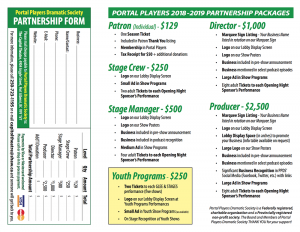 Our annual Sponsorship Campaign has kicked off – hear all about how you and your business can benefit from partnering with Portal Players on this episode. And a special shout out to our season sponsors so far, The Swale Rock Cafe, Koliber Gifts and The Graphics Factory. High level sponsors are also being recognized on our podcast, so check out our various support levels. Our sponsorship brochure will be going out to all Valley businesses soon, and can also be downloaded now.
Lastly, the show wraps up with a quick note about next summer's Theatre BC Mainstage Festival, which is coming to Port Alberni for the first time. This is the "Provincials" of Drama in BC, with eight productions from across the province coming to perform at the ADSS Performing Arts Theatre next July. More details coming soon.
Portal Players' Annual General Meeting is coming up on Monday, September 24 at 7 pm at The Capitol Theatre – come hear the latest news and get involved if you're so inclined!