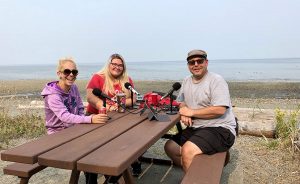 It's the inaugural episode of At The Capitol with Portal Players, the new podcast all about our theatre company and where we perform and play.
In this episode, we chat with Carrera Schroeder, director of Little Shop of Horrors; and with Melissa Lowe, a member of the trio in the show. Recorded live at Denman Island on August 13, 2018, we learn that summer camping is another enthusiastic pursuit of many of our local thespians. (Photo, L to R: Melissa Lowe, Carrera Schroeder, Peter Wienold). Click here to see the photo being described at the start of the show.
Learn about what a director and stage manager do in a production, and hear all about our upcoming season-opening musical, Little Shop of Horrors, which opens at The Capitol Theatre with a big Gala Fundraising Night on October 17.
Soon you'll be able to subscribe to the podcast on iTunes with your favourite podcast playing app; until those links are up and running, please enjoy the show right here in your browser!