Portal Players Dramatic Society is pleased to announce a new series of plays for its 2017 – 2018 season at The Capitol Theatre. Featuring two one-act plays, a rollicking musical with nuns in Las Vegas, and a hilarious comedic take on the works of William Shakespeare, the series is bound to have something for everyone.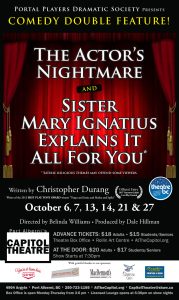 Kicking the season off are two one-act plays by Christopher Durang, winner of the 2013 Best Play Tony Award for "Vanya and Sonia and Masha and Spike". Durang's two one-act plays "The Actor's Nightmare" and "Sister Mary Ignatius Explains It All For You" open Portal Players' season on October 6. "The Actor's Nightmare", is a hilarious spoof detailing the plight of a stranger who is suddenly pushed on stage to replace an ailing actor; in "Sister Mary Ignatius Explains It All For You", a nun explains the basic tenets of Catholicism.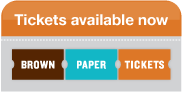 Directed by Belinda Williams, these plays are often paired together with largely the same cast members. They will also travel to the Vancouver Island One Act Play Festival this November in Qualicum.
In January, Portal Players presents a locally produced and written play from the work of the SCENEiors project, under the New Horizons program. Still in development, this production is being overseen and directed by Naomi Boutwell using interviews and workshops with local seniors living in Port Alberni.
Throughout the fall and winter, the "Nunsensations" cast and crew will be rehearsing and preparing this rollicking musical, featuring the performers in a Las Vegas revue. Written by Dan Goggins in the same vein as previous Nunsense productions, this all-ages show will be a treat for everyone who sees it. Director Kerry Robertson, together with vocal director Janet Schlackl and musical director Sandy Bouleau, have assembled a dynamic cast and production team to bring this show to life.
Closing out the season is the hilarious comedy "The Complete Works of William Shakespeare (Abridged)" by Adam Long, Daniel Singer and Jess Winfield. This comedy features parodies of the Bard's works, in a comically shortened or merged form, with only three actors performing all roles. Directed by Naomi Boutwell, audiences can catch this show starting May 4.
Also on through the year are our educational program performances. Both the STAGES Youth Theatre Program and Glee Choral Programs have performances in December and June, and STAGES will present "The Jungle Book" in April.
Season ticket and individual show tickets are available now from our box office. For more information, call the box office at 250-723-1195 during regular hours, from 3 pm to 6 pm Monday to Thursday.
All productions will be held at The Capitol Theatre in uptown Port Alberni at 4904 Argyle Street.