Wednesday June 22 and Friday June 24
7:00 pm at The Capitol Theatre
Actors of BOTH genders needed!
We will be holding auditions for our November production of Roald Dahl's The Witches.
You do not need to prepare anything please just come prepared to read and play.
Cast: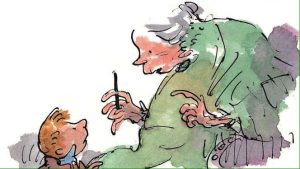 This show requires a large cast of characters both men and women. We ask anyone over the age of 16 who is interested in acting to please come and audition. This is a children's play it's going to be done in a style very similar to panto.
The lead roles are:
Boy – the lead, will be played by an adult. Is a boy of about ten.
Grandma – Wonderful sassy Grandma who tells fabulous stories and smokes nasty cigars.
Bruno -Horrid child
The Grand High Witch -Beautiful, evil lady.
Supporting cast:
Witches, lots of them. Waiters, Doormen, Lawyer, Doctor, Nurse, Maid, Some other people.
If you have any questions please e-mail me!      naomi.boutwell@gmail.com