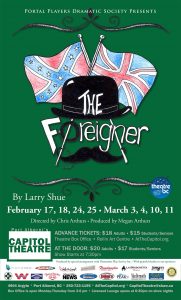 Portal Players Dramatic Society is pleased to present their upcoming comedy, The Foreigner, by Larry Shue.
Directed by Portal Players on-stage veteran, Chris Arthurs, this hilarious show will have you in stitches! Join Charlie, a foreigner, visiting the Southern United States, as he fumbles through his strange situation!
The Foreigner takes the stage Friday and Saturday Nights at 7:30, from February 17th – March 11th. Don't forget, our licensed Lounge opens at 6:30pm on show nights! Tickets can be purchased at the Capitol Theatre Box Office, the Rollin Art Centre and online here.
Advance tickets available at a discounted rate; Tickets at the door: Adults $20 Students/Seniors $17.


Brown Paper Tickets Ticket Widget Loading…

Click Here to visit the Brown Paper Tickets event page.