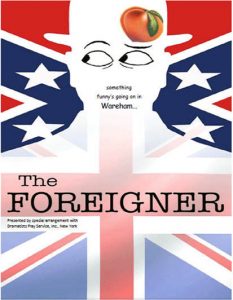 Portal Players Dramatic Society is pleased to present the next play in our great 2016-2017 schedule, Larry Shue's hilarious situational comedy, The Foreigner. Director Chris Arthurs and producer Megan Arthurs invite you to join two Englishmen, Froggy and Charlie, as they visit a charming inn in rural 1980's Georgia, USA. Charlie, overcome with shyness and emotion over his sick wife at home, is left unable to speak, so Froggy helps his friend by telling all that Charlie cannot speak or understand a word of English. Hilarious antics ensue!
This play is casting parts for:
2 women, one aged 20-35; the other aged 50+
5 men, ages from 20-60
Auditions will be held at the Capitol Theatre on Argyle on Thursday and Friday, November 8th and 9th at 7:00. Call backs (if necessary) to be held November 17. 
Rehearsals will begin with a few readings, then a more earnest schedule to begin in the week of December 5th on Mondays, Tuesdays and Wednesdays (not all actors will be required at all rehearsals) . Be prepared to to be available for all your scheduled rehearsals, especially technical and dress rehearsal days.
Auditions will be closed and actors are asked to bring  a short prepapred monologue.